Feature Product:
PEAB - Louvered Penthouse
The PEAB louvered penthouse elevator vent assembly is designed with three louvered sides and one side of 1/8" annealed glass. The PEAB assembly is built specifically for ventilation and emergency smoke evacuation of elevator shafts.

The complete PEAB penthouse assembly includes the penthouse, welded roof curb, and smoke damper. Optional screens, finishes, and insulation are also available.

Specification and IOM sheets are available here.
Feature Product:
VNBL - Filtered Supply Centrifugal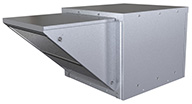 The Carnes model VNBL is a belt drive, roof mounted supply air fan designed to provide filtered, non-tempered air for a variety of applications.
Available in sizes from 10" to 20" with CFM capabilities ranging from 1,000 to 13,000 and static pressures up to 1.5 inches W.G.
Double width, forward curved blowers are designed to maximize efficiency.
Washable aluminum filters are standard to provide long operational life.
All VNBL units are licensed to bear the AMCA seal to assure accurate performance specifications. Testing is performed in an AMCA Accredited Laboratory.
VNBL units incorporate the Carnes SLIDE-RITE design. This drastically reduces the amount of fasteners required while resulting in an easy to maintain, durable, aesthetically superior design.
The optional UL/cUL 705 listing insures that the units meet strict manufacturing and operational safety guidelines.
Specification and IOM sheets are available here